Education
The events and aftermath of September 11, 2001 have put many of the privileges and opportunities which Americans expect to find present in their everyday lives in perspective and others in question. However, an educational system that provides the skills, knowledge, and opportunities for our children to develop into productive and creative citizens is an enduring expectation.
There is too much at stake to allow any of New York's children to fall through the cracks of our educational system. Our schools must not only meet, but also exceed the demands placed on them by a changing world. Each child must be furnished with a full range of educational opportunities. We must endeavor to provide every student with a classroom that fosters learning, a classroom with teachers who challenge and inspire, and a classroom which is well maintained and secure.
When we expect higher achievement from our educational system we must also provide the support and the resources to assist our schools in meeting those expectations. In 1997, the Assembly majority created the Learning Achieving Development by Directing Education Resources (LADDER) Program, a comprehensive, multi-year initiative. The LADDER Program targets significant educational and financial support for children throughout the State to reduce class size; repair school buildings; provide incentives for full-day kindergarten; strengthen professional development; provide resources for up-to-date instructional materials, educational technology and after-school programs; and establish and support a Universal Prekindergarten program. These programs are all geared to provide children with a firm foundation upon which to build their continued academic achievements.
In fact, LADDER presents a commitment to excellence and to equity; it is not a question of who should have access to wired schools, smaller classes, quality teachers and universal prekindergarten, but when will all districts have these basics for a global 21st century education so that all of our children may excel. Full implementation of LADDER programs combined with sufficient resources to help schools meet the demands of the new, higher Regents standards is a commitment to the future which the State must make and keep.
The Executive Budget for the 2002-03 school year would leave school districts without the resources necessary to ensure that all children are meeting higher academic standards. The Executive proposal of $14.2 billion provides an infinitesimal increase of $6.0 million, or four one-hundredths of one percent, in General Support for Public Schools.
According to Assembly calculations, this represents a cut of $1.02 billion from present law. In fact, the State Education Department estimates the State share of total education expenditures for School Year 2000-01 to be 40.4 percent, a small increase from the 39.8 percent State share in 1995-96, when Governor Pataki first took office. Given the enactment of the Governor's proposed school aid increase in 2001-02 along with this year's proposal, it is clear that we may not be just standing still, but may in fact, be moving backwards.
For the second year in a row, the Governor proposes combining thirteen separate aid categories into one Flex Aid, including aids specifically targeted to our neediest students; these aids are frozen at last year's level, thereby providing no additional basic operating aid to schools in New York State. In addition, the Governor's proposal cuts valuable teacher programs, eliminates full day kindergarten incentives and provides level funding for most other programs.
September 11, 2001
The September 11th terrorist attack on the World Trade Center had a sudden and damaging effect on the students, staff, and families of the New York City public school system. On the 11th, over 9,000 students who were dangerously close to the Twin Towers were evacuated without a single injury. However, over 1,500 students and 800 staff members lost a family member or loved one as a result of the disaster. In the days immediately following the attack, eight schools located in the "frozen zone" were closed, displacing nearly 6,000 students and school staff.
In the aftermath of these terrible events, New York City schools continued to work to restore a safe, supportive school environment for traumatized students and staff, and to regain normalcy and stability throughout the entire system. New York City schools lost critical classroom time as a result of September 11th, throughout the system and in Lower Manhattan in particular. Emergency mental health services, including counseling and other intervention services, are a continuing need of students and teachers alike.
Ultimately, all of the students affected by this tragedy must be afforded the resources needed to provide the opportunity to reach the new and higher learning standards being implemented in our city and New York State.
Continuing the Assembly LADDER Program
The 2001-02 school year marked the fourth year of a multi-year implementation plan for the LADDER Program, which is designed primarily to advance the quality of early childhood education. This innovative initiative provides a comprehensive approach to improve the education system of the State.
The Assembly remains committed to providing the full level of statutory funding for LADDER Programs, as agreed to by the Governor and both houses of the Legislature in the 1997-98 State Budget. The cumulative effect of all of these LADDER initiatives is to support the attainment of the new Regents higher learning standards for all students. The major cornerstone of the LADDER Program focuses on providing universal access to prekindergarten programs throughout the State.
Once more, however, the Executive has failed to meet statutory provisions for LADDER programs. Funds for Universal Prekindergarten are provided at last year's expenditure level and funding for Early Grade Class Size is decreased from last year's level. The Executive Budget Proposal folds Minor Maintenance Aid into Flex Aid and completely eliminates funding for the incentive for full day kindergarten. In addition, there are no funds for Shared Services Aid, Professional Development Grants or Educational Technology Incentive Aid. Furthermore, the statutory increases for textbooks and software are ignored. Again, the Executive proposal amounts to a significant departure from the LADDER agreement, which is statutory.
Universal Prekindergarten and Full-Day Kindergarten
In an effort to promote educational excellence, the Assembly has fought long and hard to maintain and expand access to educational programs for all four-year-olds. There is agreement among educators that early intervention at the prekindergarten level is essential for school readiness. New York State's Universal Prekindergarten provides that positive step by preparing children for the rigors of an increasingly more structured educational setting where standards are kept and met at each grade level. Evidence has found that those students who are never given the opportunity to attend prekindergarten programs enter school at a disadvantage, which they may never overcome.
The benefits of prekindergarten education programs are well documented and evidenced in volumes of research. A key 1996 study of the long-term effects of preschool education known as the Ypsilanti Perry Preschool Project of High/Scope followed African-American children "at-risk" of later school failure for three decades. Researchers found the children "fared better not only in school but also in their health, social adjustment, and economic prospects." Their research concluded that the investment in preschool far outweighed the costs these same children could be to society had they not experienced the substantive early education intervention. It is important to note that these results have been duplicated time and again in a multitude of additional studies, indicating that all children gain a significant advantage from a high quality preschool program. In fact, recent research from the Rochester Early Childhood Assessment Partnership clearly demonstrates that their Universal Prekindergarten program has been effective in increasing students' academic performance. The report finds that a full 83 percent of children served by the program made gains in academic skills. In addition, there were significant gains made in the areas of motor skills and social skills.
The Universal Prekindergarten Program has successfully fostered collaboration among community providers of early childhood programs within school districts. Fifty percent of the districts responding established more than half of their Universal Prekindergarten slots in community-based early education programs in the community. Such collaboration efforts are good for our schools and our entire communities. Another cornerstone of this program has been inclusiveness of students with disabilities into the prekindergarten programs.
In New York State, school districts have found enthusiastic responses from parents, teachers, and communities involved in the Universal Prekindergarten program. In each of the school years following the enactment of the Universal Prekindergarten Program, the number of four-year-olds served by the program and the number of districts participating in the program has steadily increased. In fact, despite the unwillingness of the Governor to fully support the remaining phase-in of Universal Prekindergarten, the program in 2001-02 grew to a record level of 190 participating districts serving an estimated 55,000 four-year-olds. In total, over the past four school years, a cumulative total of approximately 150,000 four-year-olds have benefited from the valuable educational opportunities provided by the this program. (see Figure 1)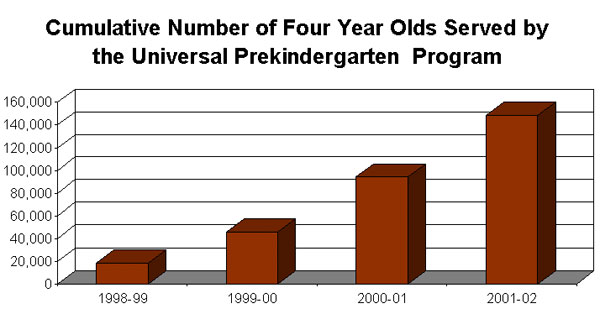 Figure 1
The LADDER Program's focus on early childhood education also contained an incentive for school districts to move to full-day kindergarten. This initiative builds upon the developmental foundation of a child's participation in a prekindergarten program and continues his or her preparation for first grade. Overall, since 1998-99, 76 school districts have taken advantage of the Full-Day Kindergarten incentive. This has resulted in an additional cumulative total of almost 20,000 students who were offered the opportunity of a full day of kindergarten instruction. (see Figure 2)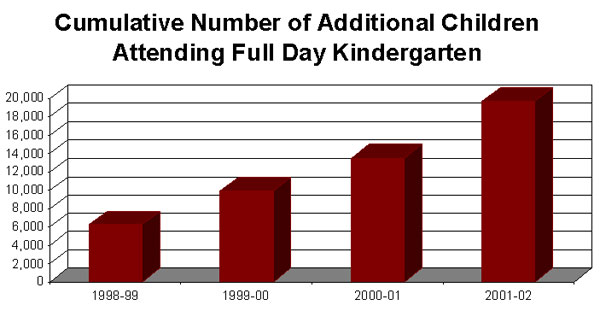 Figure 2
Reduced Class Size
Few topics in education have undergone more research and study than the issue of class-size reduction. The results of this wealth of research often proves the same: the smaller the class the higher the student performance, the greater the teacher satisfaction and the greater the benefits to the total learning environment. Improved conditions in smaller classes allow teachers to teach more effectively and students to participate on a level of deeper learning and creativity. When class size is reduced, students achieve higher scores on standardized reading and math tests, student behavior is improved and participatory learning takes place.
One of the most important studies on class size was declared a "watershed event" in research by Robert Slavin, John Hopkins University, an American Education Research Association (AERA) reactor. The study, Project STAR was a large scale, four-year, longitudinal, experimental study of reduced class size in Tennessee schools. The study included 79 schools in 42 systems and encompassed schools in inner-city, rural, urban and suburban locations. The study revealed that in each grade level (K-3) and across all school locations, smaller classes made the highest scores on the norm-referenced Standard Achievement Test and the criterion-based Basic Skills First Test. These results were both statistically and educationally significant.
The reduction in class size allows teachers to use new teaching strategies and individualized instruction. By allowing teachers to focus their attention on fewer students, more contact with families is made, which in turn fosters better communication. The smaller class size also allows for more enthusiasm, patience, flexibility and humor.
Reduction of class size helps our children and our teachers to create better learning environments where children learn to love to learn. Despite many obstacles, the 2001-02 school year observed a record 208 school districts participating in the K-3 Class Size Reduction program. Cumulatively, since the 1999-00 school year, an estimated 6,000 classrooms were reduced to a class size of 20 in the early grades. Therefore, the K-3 Class Size Reduction program has impacted the lives of 120,000 students in the early grades, bettering these students chances of achieving the Regents higher learning standards and fulfilling their academic potential. (see Figure 3)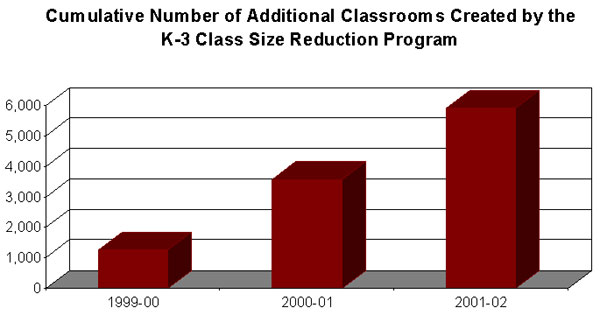 Figure 3
Educational Technology
In an era that has been marked by the need for a well-educated, technologically sophisticated workforce, the need for investment in our schools' educational technology is paramount. There is no debate over whether students should learn how to use computers as a learning and research tool, nor is there any disagreement over the benefits derived from learning in globally-connected classrooms. One of the major tenets of the LADDER Program is the provision of increased funds for instructional materials, including computer software and hardware and textbooks.
The benefits of such investments are well-known. A recent report sponsored by the Scholastic Network and Council of Great City Schools focused on the work of 500 students in fourth and sixth grade classes in seven urban school districts. The results show significantly higher scores on measurements of information management, communication and presentation of ideas. Results from another recent, two-year study in Illinois indicated that the use of technology in the classroom did, in fact, have a significant impact on student achievement.
One of the gravest problems in the area of educational technology is not in its use but in its deployment. The so-called "digital divide" that refers to the technology haves and have-nots is very much a reality. As long as disparities remain in the way technology is deployed and utilized in the classroom, the achievement gap that exists for students in poorer school districts will continue.
The Assembly remains committed to funding the educational technology for all our students facing a competitive global economy.
Extended Day and School Safety
Funding extended day programs is another key component of the LADDER Program. Now more than ever, parents need to have a safe place for their school-age children when they are at work. Children of all ages need to know that there is a secure environment where they can spend time with their friends, do homework, receive some extra help with a course or study skills, and participate in other productive activities.
According to the U.S. Bureau of Labor Statistics, in 69 percent of all married-couple families with children ages 6-17 years, both parents work outside of the home. The National Institute on Out-of-School Time notes that there are approximately eight million children 5-14 years of age who regularly spend time without adult supervision. Children are at the greatest risk between the hours after school and before the time when parents are likely to return home from work.
In addition to the obvious objective of providing a supervised environment, many reports note that after-school programs provide many positive outcomes for children. Children in after-school programs were reported by their teachers to have better work habits and interpersonal skills, as well as stronger emotional adjustment, conflict resolution skills and grades. The Assembly's commitment to making our schools safer and providing enriching and expansive after-school programs has never been stronger.
School Facilities
A cornerstone of the LADDER plan is its focus on the need to improve the condition of school facilities across the State through formula changes which increase State support for construction. In 1998, the Legislature secured a 10 percent increase in Building Aid reimbursement, a regional cost factor, and additional aid for Minor Maintenance and Repair projects.
The Assembly continued to push for additional funds for school construction, which resulted in the enactment of the RESCUE capital program. In School Year 1999-2000, RESCUE provided an additional $145 million in State support for critical school facility needs. This valuable program was expanded by $50 million in School Year 2000-01. School districts can apply for RESCUE funding through School Year 2002-03 and will be allowed to use the funds to offset the costs of improving the condition of school facilities. To date, claims for RESCUE funding total nearly $125 million of the $195 million available.
Beyond simply providing additional resources for school facilities, RESCUE also includes a comprehensive public school building safety program which requires the annual inspection, safety rating, and monitoring system of all public school buildings used primarily for instruction. This serves as a mechanism to ensure that facilities are well maintained and well equipped to support the efforts of students as they prepare for the future.
In 1997-98, Building Aid totaled $775 million. As a result of the Building Aid incentives enacted in 1997, Building Aid has almost doubled over the past four years to a total of $1.42 billion in 2001-02. Schools across New York State have benefited from increased Building Aid and the Assembly will continue to ensure that school districts are reimbursed for much needed school infrastructure improvements.
However, even with the recent efforts of the Legislature to provide additional State support for school facilities, there remains an unmet need for capital expenditures. The new learning standards set by the Regents will require facility changes to correlate with instructional changes, including the need for modern science laboratories and air conditioned buildings to accommodate additional summer instruction. With many of the 4,000 school buildings in New York State having been built prior to World War II, it is essential that the State continue to provide the resources necessary to improve the condition that students face in their school facilities on a daily basis.
Higher Standards
For the past several years the State has implemented a series of education reforms to raise the bar by creating new performance benchmarks for all children in grades K-12. These reforms were set in motion by the New York State Board of Regents, and were designed to ensure that all of New York State's students have the knowledge and skills to access greater social and economic opportunities.
The State's emphasis on higher levels of performance has compelled the school community including teachers, administrators and parents to reexamine longheld beliefs and practices to come up with fresh approaches to incorporating the standards into the curriculum. New strategies have included emulating effective methods of teaching and instruction, improving the quality of teacher training and professional development, and providing extra help to struggling students.
Recent test scores have demonstrated that the commitment to higher standards at all levels has begun to pay off. Statewide, students in elementary schools have made significant gains over the past three years. This year, in elementary schools 69.1 percent of students are meeting the math standards, and 60 percent of students are meeting the English standards. At the secondary school level, more students are passing Regents examinations in four of five areas required for graduation than took these examinations in 1996-97.
While some progress has been made, more work clearly needs to be done. Across the State, middle school student achievement in both English and math remains unchanged. At the same time, high-need districts are struggling the most with meeting these new requirements. In fact, while overall student achievement continues to improve, our State's neediest districts will still lag behind their more affluent counterparts. Nearly all students in low-need districts are meeting standards; however, in our large cities between 50 and 60 percent of students are still failing. Only 50 percent of students residing in large city school districts are meeting mathematics standards in the fourth grade and just 44 percent of New York City students are meeting fourth grade English standards. The Assembly remains committed to providing the resources necessary for all students to meet high standards, regardless of where they live.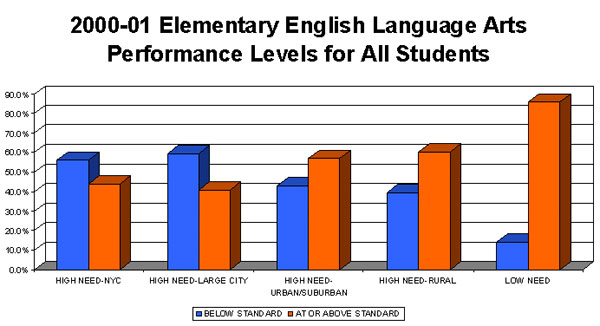 Figure 4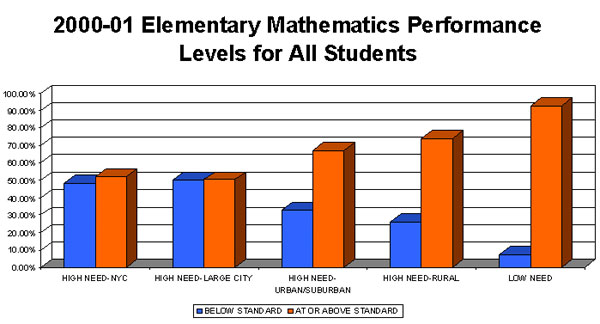 Figure 5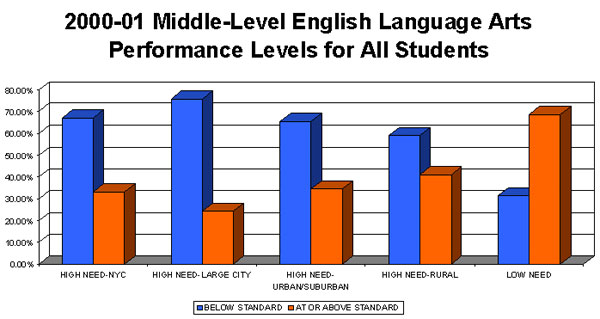 Figure 6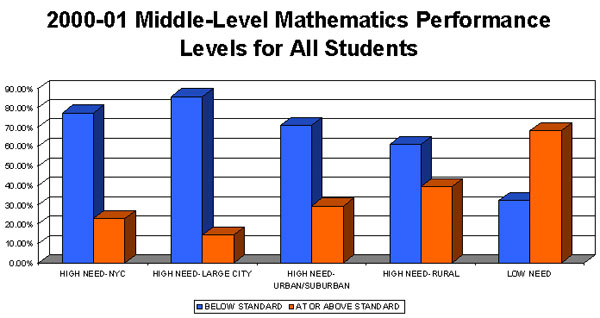 Figure 7
Teacher Quality and Professional Development
Research has made it clear that when we invest in the teaching workforce's capacity to provide all students an opportunity to learn, we also invest in our children's intellectual growth and achievement levels. Our teachers need to be given opportunities to participate in professional development experiences that foster their professional growth and understanding. Our teachers are key players in helping us transform our schools into 21st century learning communities where our children are eager to learn and achieve to their fullest potential.
North Carolina and Connecticut, for example, invested in beginning teacher mentoring and ongoing professional development for all its teachers and posted large student achievement gains in mathematics and reading. States that repeatedly lead the nation in student achievement in math and reading have among the most highly qualified teachers in the country and have made longstanding investments in the quality of teaching. Factors such as high teacher turnover, large pupil to teacher ratios, and inexperienced or uncertified teachers all increase the likelihood of lower achieving students.
The Legislature has traditionally supported a variety of professional development opportunities for teachers. Programs which received funding during the 2001-02 school year included Teacher Centers at $30 million, and the Teacher Mentor Intern program at $5 million; in addition, Teacher Support Aid at $67.48 million assists large city districts in both attracting and retaining new teachers. Furthermore, the LADDER program provides such opportunities through both Shared Services and a Professional Development Grant program as well. Finally, other initiatives such as Early Grade Class Size Reduction and Minor Maintenance and Repair programs do much to improve the ability to deliver instruction effectively as well as improve the classroom environment.
Unfortunately, the Executive budget fails to provide adequate resources for our teachers. The Governor's 2002-03 education proposal cuts Teacher Support Aid by nearly $53 million, cuts Teacher Centers by $20 million, and reduces the Teacher Mentor-Intern Program by 66 percent. It is irresponsible to cut support for those who teach our children at a time when many of our students are struggling to meet high standards. Because change is a process made by both individuals and organizations, it is essential that we support our teachers in their transition to 21st century educators. We must be able to provide all our children with the tools needed to keep our nation growing. (see Figure 8)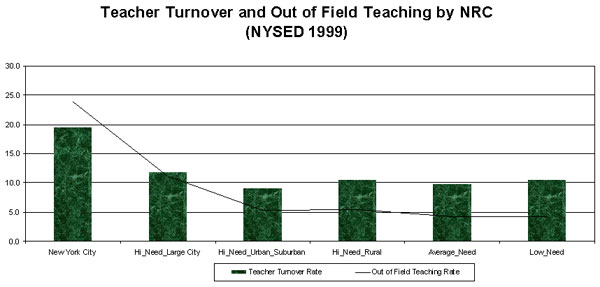 Figure 8
Executive Budget Fails to Provide Adequate Resources
The Executive Budget for the 2002-03 school year leaves school districts without the resources necessary to ensure that all children can meet high academic standards. The Executive proposes a meager $6.0 million increase in General Support for Public Schools (GSPS) bringing total support to nearly $14.2 billion. This is a result of combining thirteen separate aid categories into one Flex Aid, cutting valuable teacher programs, eliminating full day kindergarten incentives and providing static funding for most other programs. The Executive Budget also relies heavily on increases in Federal grants, some of them one-time infusions.
In comparison, the Assembly calculates that present law generates $1.02 billion, an 8.38 percent increase over 2001-02.
Flex Aid
The backbone of the Executive's proposal is the consolidation of thirteen distinct aid categories into a single category-Flex Aid, which would take effect in 2003-04. Aids comprising this block grant include Operating Aid, Tax Effort and Tax Equalization and Extraordinary Needs Aid, Operating Standards Aid, Gifted and Talented, Educationally Related Support Services Aid, Limited English Proficiency, Minor Maintenance, Public and Private Excess Cost Aid, BOCES, and Special Services Aid. The Executive's Flex Aid proposal provides level funding of $10.415 billion.
Prior Year Claims
The Executive Budget provides a mechanism for the accelerated payment of prior year claims to the five large city school districts. Financing provided by the Municipal Bond Bank will permit acceleration of payments for prior year claims totaling $214 million. Up to $204 million of the total would be available to New York City. A school aid intercept would be used to pay debt service on the tax-exempt bonds.
Building Aid
The Executive Budget proposes three primary changes to building aid. First, the proposal conforms the payment of building aid for hard dollar projects with the recently enacted assumed amortization changes, for bonded projects, resulting in savings of approximately $130 million. Also, the Governor proposes using current building aid ratios for all projects approved by voters after July 1, 2002. Finally, the Executive proposes allowing school districts to contract with the Dormitory Authority for construction and construction management services, and exempts such contracts from Wicks Law provisions.
LADDER
The Executive proposal continues to shortchange LADDER programs. The Governor recommends the elimination of the full day kindergarten incentive. The proposal also eliminates start up grants for Class Size Reduction, which result in an $11.85 million decrease. The Executive maintains level funding for Extended Day/School Violence at $30.20 million. The Governor fails to fund the Educational Technology Incentive or Professional Development grants. However, the Executive proposal does contain modest increases for Textbook Aid and Software Aid. Finally, the Executive proposal also maintains current expenditures level for Universal Prekindergarten programs.
Under the Executive Budget, local school districts will continue to shoulder a large burden of educational spending. This is especially difficult for our high need districts as they struggle to meet high academic standards. Excluding STAR, the State share of total educational expenditures is 40.4 percent or only one percentage point higher than in 1994-95 when the Governor took office. The Executive budget continues New York's place at the back of the class in state support for public schools.
It is our obligation to provide every child in New York with access to a high quality education, from early childhood to graduation. To uphold that commitment we must insure early learning opportunities through Universal Prekindergarten and full-day kindergarten, smaller class sizes in the early grades, provide support for academic intervention services so that children can meet tough Regents standards, and provide school buildings that are safe, clean and technologically equipped. The Executive budget fails to meet this obligation.
School Aid Litigation
Litigation was commenced in May of 1993 in State Supreme Court challenging New York State's funding structure for New York City public schools. The lawsuit was filed on the grounds that that current system violated the Education Clause of the New York State Constitution, the Equal Protection Clause of the State and Federal Constitutions, and Title VI of the Civil Rights Act of 1964 and its implementing regulations.
On January 10, 2001, the Court ruled in favor of the plaintiff on both the State Constitutional claim and the claim involving the implementing regulations of Title VI of the Civil Rights Act. The Court held that New York State has consistently violated the Education Article of the State Constitution by failing to provide the opportunity for a sound basic education to New York City's public school students. In addition, the Court found that the school financing system has an adverse unjustified disparate impact on minority public school students in violation of Federal Civil Rights regulations.
In February of 2001 the Governor appealed the decision. Oral arguments were held before the Appellate Division on October 25, 2001. A decision is expected on the appeal in early 2002.
Reading, writing and arithmetic are the foundations of any sound basic education, but because the world's nations have made significant gains in the number of people who are educated and literate, we must continue to seek excellence. A basic education is no longer adequate for the leaders of tomorrow. Our higher standards demand that New York State provide the tools for all children no matter their socio-economic background, family history and composition or where they live. Providing the opportunity for all children to excel must remain our unwavering goal.