Letter From the Chair...

During the 2002 legislative session, the Assembly Judiciary Committee advanced legislative proposals which demonstrate the myriad issues under our jurisdiction. These range from bills to allow guardians of mentally retarded individuals to make medical decisions on the withdrawal of life sustaining treatment to measures changing the statute of frauds, ensuring that New York's children receive needed health care coverage, aiding the administration of justice in localities and improving civil procedure. We also reviewed the judiciary budget which was submitted by the Office of Court Administration and approved by the Legislature. Through Assembly efforts, approximately $4.6 million was added to the state budget to fund civil legal services.
Unfortunately, we were frustrated by the failure to resolve the 18B assigned counsel and law guardian crisis. Once again, no agreement was reached on increased rates for the attorneys who represent children and indigent adults in family court and criminal matters. The crisis threatens New York's ability to live up to its constitutional and statutory commitments to insure proper legal representation. Increasing 18B rates will be a main priority of the Judiciary Committee in 2003.


Helene E. Weinstein, Chair
Assembly Judiciary Committee
Legislative Relief for Victims of the September 11th Terrorist Attacks
After the September 11th terrorist attacks, the Assembly took immediate steps to address needs arising out of the tragedy. Chapter 73 of the Laws of 2002 (A. 11290; Rules/Silver, Weinstein, Glick, et al), enacted the September 11th Victims and Families Relief Act. With regard to estate law the Chapter provided: an indemnity clause for personal representatives for actions taken by them reasonably and in good faith; families may commence probate in any county in the state; commissions for fiduciaries shall not include any portion of the Fund awards; and a statement of legislative intent that domestic partners of victims of the terrorist attacks be eligible for distribution of awards from the Fund. With respect to workers' compensation, the Chapter provided that insurance carriers cannot assert liens against any Fund awards, nor can carriers terminate workers' compensation benefits because an individual files a claim for an award from the Fund. Lastly, it provides that awards from the Fund are exempt from all state and local taxes.
Chapter 672 of the Laws of 2002 (A. 9937; Kaufman), ensures that charitable donations to families or victims of the September 11th terrorist attacks cannot be used to reduce any subsequent award, judgement or settlement.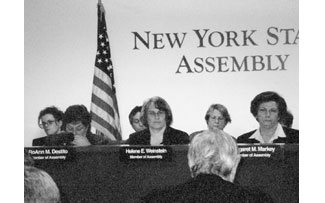 The "September 11th Victims and Families Relief Act" was enacted by the legislature following a public hearing co-sponsored by the Assembly Judiciary Committee on compensation and charitable donations to victims and their families. From left to right: Assemblymembers RoAnn Destito, Helene Weinstein and Margaret Markey.