From the
NYS Assembly
Judiciary Committee
Sheldon Silver, Speaker • Helene E. Weinstein, Chair • December 2010
Legislative Office Building, Room 831, Albany, NY 12248
Letter from the Chair

The Judiciary Committee has jurisdiction over virtually all legislation affecting New York State's judicial system, both substantive and procedural. The Committee reviews legislative proposals concerning domestic relations, and child support, the protection of domestic violence victims, trusts and estates, guardians for incapacitated persons, real property and landlord-tenant law, lien law, debtor-creditor law, the Uniform Commercial Code, and civil practice. In addition, all proposed amendments to the State Constitution are reviewed by the Committee.
The Committee also shares budgetary oversight of the state's court system with the Assembly Ways and Means Committee. A top priority of the Committee each year is ensuring that funding is provided in the state budget for civil legal services for low-income New Yorkers. This year in particular, in light of the devastating impact of the economic crisis upon the already scarce funding resources for civil legal services, the Judiciary Committee remained a strong advocate for providing civil legal services for those in need.
The Judiciary Committee tackled many high profile issues in 2010, with particular emphasis upon divorce reform and consumer debt collection practices.
The highlights that follow demonstrate the critical importance of the Judiciary Committee's work in 2010 upon the lives of New Yorkers.
Sincerely,

Helene E. Weinstein, Chair
New York State Assembly Judiciary Committee
Access to Justice
Funding for Civil Legal Services. The Assembly has long appropriated monies to support civil legal services to assist New Yorkers affected by foreclosure, eviction, domestic violence, unemployment, disability and other matters that directly impact family stability and security. This year civil legal service providers faced a crisis – they were confronted with rising demands for their services by at-risk New Yorkers while facing a sharp decline in funding to support these services. The New York Interest on Lawyer Account (IOLA) Fund - a primary source of funding for these services, saw dramatic losses in revenue, a result of the severe economic decline and historically low interest rates.
On January 7, 2010, the Assembly and Senate Judiciary Committees held a joint hearing to assess the future of civil legal services in New York. Members heard testimony from the Chief Judge of the State of New York, Hon. Jonathan Lippman, and leaders of various other legal, academic, business, government and community groups, as well as from clients who rely upon assistance from civil legal service providers. The Chief Judge emphasized the importance of funding civil legal services to help meet the state's fundamental requirement of ensuring equal justice for all. Testimony reinforced how vital legal services are to low-income New Yorkers, that they are cost effective, providing economic benefits to the state. Also emphasized was the importance of finding a long term solution to address the civil legal services funding crisis.
As part of the budget for State Fiscal Year 2010-2011, the Assembly restored approximately $4 million for civil legal services, including $609,000 for domestic violence programs. The legislature for the first time also appropriated $15 million to IOLA, addressing their dramatic shortfall in revenues for funding civil legal services. In addition, a joint resolution was enacted by the legislature asking Chief Judge Jonathan Lippman to annually report to the governor and legislature the findings from his statewide hearings held to assess the extent and nature of unmet civil legal services needs with recommendations to address gaps in available resources to meet the need for civil legal services in New York.
Indigent Defense Commission. After many years of effort, this year's budget created a new statewide independent Office of Indigent Legal Services. The Office along with the Indigent Legal Services Board, chaired by the Chief Judge, is charged with overseeing and funding public defense services across New York with the goal of ensuring a uniform and improved public defense delivery system statewide.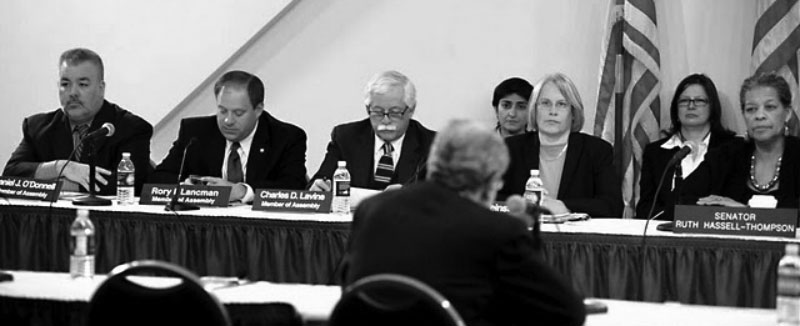 Chief Judge of the State of New York, Hon. Jonathan Lippman testifies at the public hearing to address the civil legal service funding crisis held by the Assembly Judiciary Committee and members of the Senate.
Protecting Children and Families
A number of measures were enacted to improve the well-being of New York's children particularly those in low-income families.
Low-Income Support Obligation Performance Improvement Act. This measure brings much-needed clarity and simplification to the process of modifying child support orders, ultimately resulting in greater compliance and increased support collection for children. It also provides unemployed, non-custodial parents with increased opportunities to participate in employment and training programs. L. 2010, c. 182, A8952 – Weinstein.
Representation for children. New York State's tradition of affording legal representation to children in a variety of proceedings is long-standing and nationally recognized. In order to clarify the role of attorneys representing children and their relationship with their client, "attorney for the child" now replaces the term "law guardian" in New York Law L. 2010, c. 41, A7805B – Weinstein.
Protecting Victims of Domestic Violence
In the 2010 legislative session, a number of laws were enacted to strengthen protections for domestic violence victims and their children by improving access to civil orders of protection by victims of domestic abuse.
Order of protection - contemporaneous events. This measure clarifies that there is no statute of limitations on the incidents of abuse that a victim of domestic violence may allege and prove to obtain a civil order of protection. L. 2010, c. 341, A8393-a – Weinstein, John.
Extension of order of protection. In keeping with the preventive goals of the domestic violence statutes another law changes the standard for extending an order of protection to "good cause" or "consent of the parties" - a more reasonable and accessible standard. Previously, a victim seeking an extension was required to show "special circumstances," a high standard that effectively precluded victims from using this provision and forced them to wait for a new incident to occur. L. 2010, c. 325, A6195-a – Weinstein.
Electronic transmittal of order of protection to law enforcement. Victim safety is enhanced by making permanent and statewide a pilot project previously limited to certain counties. It authorizes expedited electronic transmittal of orders of protection by the courts to law enforcement to enable them to expeditiously conduct personal service on the respondent. L. 2010, c. 261, A10410 – Rosenthal.
Translation of order of protection. The Assembly passed a measure that would help non-English speaking parties to better understand the essential terms of an order of protection as outlined by the court. A5273 – Espaillat (passed the Assembly only).
Assembly Judiciary Committee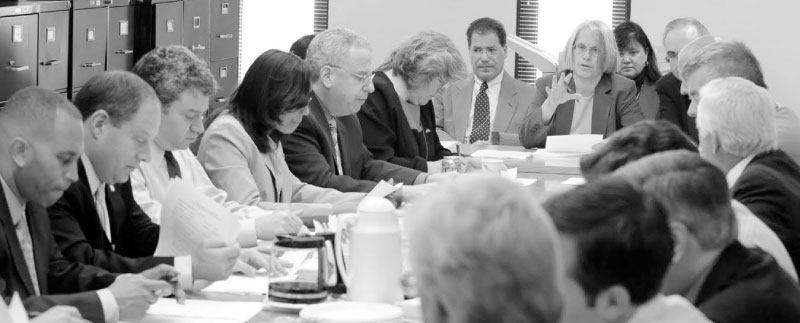 The Assembly Judiciary Committee meets regularly during the Legislative session. The meetings are open to the public.
Matrimonial Legislation
In the 2010 legislative session, the legislature enacted landmark matrimonial reform legislation as part of a comprehensive divorce reform packet. This integrated reform package included a measure permitting no-fault divorce, measures strengthening laws on counsel and expert fees for non-monied spouses, and a measure establishing guidelines for temporary spousal maintenance during a divorce proceeding.
No-fault divorce. This law adds irretrievable breakdown of a marriage, for a period of six consecutive months, as an additional ground for divorce so that parties whose marriages have broken down have an option to secure a divorce without having to allege or prove fault, similar to other states. All financial, custody and visitation matters must be resolved before a divorce can be granted on this ground. L. 2010, c. 384, A9753 – Bing.
Counsel and expert fees. This measure will create a level playing field with respect to the parties' respective abilities to pay these fees. It will help ensure that each party is adequately represented and that no party to a matrimonial case is at a disadvantage because of a lack of resources to pursue or defend the case. L. 2010, c. 329, and c. 415, A7569-A and A11576 – Weinstein.
Temporary maintenance guidelines. This law addresses the income disparity between the parties and provides for consistent and predictable temporary maintenance awards similar to the statutory child support guidelines. L. 2010, c. 371, A10984-B – Paulin.
This reform package will enable equal access to our laws and will help ensure that the economic burdens of a divorce are fairly and equitably shared by the parties.
Assisting Tenants and Homeowners
Foreclosure standing. Building on our legislation requiring settlement conferences between New Yorkers facing foreclosure and their lenders, the Assembly passed legislation which would ensure that only the actual holder of the mortgage note or their legal representative will have standing to maintain a foreclosure action. Numerous cases in our state have shown the need for such legislation and case law has held that such a showing is required. This legislation would ensure uniform treatment of this issue in foreclosure cases. A11465 – Weinstein (passed the Assembly only).
Notice of foreclosure. The legislature also enacted a new law that requires notification to tenants that their status as rent-controlled and rent-stabilized tenants is unaffected by their building's foreclosure. L. 2010, c. 358, A10226 – Rosenthal.
Advisory Council for Housing Part. A new law will change the composition of the Advisory Council for the Housing Part of the New York City Civil Court which provides the Chief Administrative Judge of the Office of Court Administration a slate of qualified persons for appointment to the bench in housing court. This legislation will replace two of the four public at large members on the advisory council with one additional tenant representative and an additional real estate representative - the Chair of the New York City Housing Authority (NYCHA). L. 2010, c. 488, A6192 – Weinstein.

Assemblymembers Helene Weinstein, Judiciary Chair; Darryl C. Towns, Banks Chair; and Vito Lopez, Housing Chair, with Assembly Judiciary Committee members at the November 17, 2010 joint hearing concerning mortgage foreclosures and the impact of funding for foreclosure prevention.
The Assembly Judiciary Committee had an extremely successful year enacting trusts and estates legislation to protect families upon the death of a spouse or parent, and clarifying current laws regarding renunciation of gifts, execution of trusts and a surviving spouse's right of election. We also responded to the repeal of federal estate tax laws, protecting the surviving spouse from being unintentionally disinherited.
Exempt assets. The Legislature updated protections for families when a parent dies by increasing the amount of personal property that is exempt from provisions of a will or intestate distribution and automatically setting off to the decedent's surviving spouse to provide support for him or her and the children during the period of estate administration. Where there is no surviving spouse, the exempt property is set off to the decedent's children who are under 21. L. 2010, c. 437, A8969 – Weinstein.
Spousal right of election. Spousal rights are protected under a measure that clarifies that a surviving spouse's right of election must be exercised within two years of the deceased spouse's death. Under this measure a court may, in its discretion for good cause shown, extend the two year period in which a surviving spouse may exercise this right. L. 2010, c. 545, A11255 – O'Donnell.
Generation-skipping transfer tax. Another law to protect spouses was necessary due to the repeal of federal estate and generation-skipping tax. When a will refers to a repealed federal law, the intent of the testator to provide for his spouse often cannot be effectuated. This new law resolves the problem created by such repeal and avoids needless litigation to the benefit of the decedent's beneficiaries and the court system as well. L. 2010, c. 349, A9857C – Carrozza.
Lifetime trust. The procedure to establish a lifetime trust is clarified in another new law safeguarding assets left to beneficiaries. L. 2010, c. 451, A11316 – Weprin.
Renunciation. Another measure clarifies the process and consequences of refusing an inheritance. L. 2010, c. 27, A7132A – Lavine.
Inheritance by non-marital child. The rights of children to inherit are safeguarded in another measure that clarifies the way a non-marital child can establish status to inherit from his or her father under section 4-1.2 of the EPTL. L. 2010, c. 64, A7899A – Jeffries.
Consumer and Bankruptcy Protections
In order to assist families struggling in this severe economic decline the Assembly passed several pieces of legislation to address shortcomings in New York's network of laws governing debt collection.
Bankruptcy Exemptions. The legislature enacted a law that would modernize and update New York's exemptions applicable to bankruptcy and money judgments. Nearly all of these exemptions are unchanged since they were set in 1982. They have been eroded by inflation and leave New York far behind other states in protecting our citizens facing money judgments or bankruptcy. Provisions of this legislation include setting reasonable exemption levels consistent with the values set by other states and instituting a COLA to keep pace with inflation. L. 2010, c. 568, A8735A - Weinstein.
Consumer Credit Fairness Act. The Assembly passed this legislation to help protect consumers from abusive debt collection practices. This measure would shorten the statute of limitations to commence consumer credit actions from six years to three years; strengthen evidentiary requirements for default judgments; and enhance requirements for notice to defendants. A.7558A – Weinstein (passed the Assembly only).
Private cause of action. To address a gap in federal law, the Assembly passed legislation that would grant consumers a private cause of action against debt collectors who violate New York law. A3532A – Gianaris (passed the Assembly only).
Administration of Justice
Jury Diversity. In response to claims that jury pools in certain counties were not properly representative of the citizens of those counties, resulting in certain groups being under-represented, the Judiciary Committee (along with the Codes Committee) last year, held a hearing on jury diversity. The committees received testimony from bar association groups, the Office of Court Administration, a Cornell University Law School professor, and others.
As a result of information gleaned from the hearing, the legislature enacted a measure authorizing the commissioner of jurors of each county to collect demographic information concerning the ethnicity, race, gender, and age, of jurors to insure that those utilizing our civil and criminal justice systems are able to appear before a "jury of their peers." L. 2010, c. 112, A2374A – Lancman, Jeffries, et al.
Electronic filing of notice of claim. Another measure promoting the administration of justice dispenses with the requirement to serve a notice of claim against the City of New York only by personal service upon the City in lower Manhattan. Instead, service of a notice of claim is now also permitted via electronic means including via e-mail. As a result potential claimants will no longer have to take the day off from work or hire someone to serve this important legal document. L. 2010, c. 12, A2575 – Weinstein.

Assemblymembers Helene Weinstein, Judiciary Chair, Jeffrion L. Aubry, Correction Chair, Joseph Lentol, Codes Chair, RoAnn Destito, Governmental Operations Chair, and Jim Hayes, Ways and Means ranking minority member at the Public Protection hearing on the impact of the 2010-2011 New York State Executive Budget Proposal.