Letter from the Chair

The Judiciary Committee has jurisdiction over virtually all legislation affecting the state judicial system and much of the legislation affecting civil practice in the courts. In addition, all proposed amendments to the New York State Constitution are considered by the Judiciary Committee.
The Committee also shares budgetary oversight of the Office of Court Administration and the Department of Law with the Assembly Ways and Means Committee.
A top priority of the Committee each year is ensuring that funding is added to the state budget for civil legal services for low-income New Yorkers. Once again, this year, in light of the lasting impact of the economic crisis on already scarce funding resources for civil legal services and on the rising and unmet demand for these services, the Judiciary Committee remained a strong advocate for providing civil legal services to those in need.
The Judiciary Committee tackled many high profile issues in 2014, including reform of spousal maintenance laws, child custody and protections for domestic violence victims and children, and enacted significant reforms in many areas, including mortgage foreclosure protection, consumer protection, modernization and reform of the uniform commercial code, and increasing family court judges state-wide to enhance access to justice.
The highlights that follow demonstrate the breadth and diversity of the Judiciary Committee's work in 2014. The Committee looks forward to continuing its efforts to address the needs of New Yorkers.
Sincerely,

Helene E. Weinstein, Chair
New York State Assembly
Judiciary Committee
FAMILY COURT JUDGES
A long standing priority for the Chair and the Assembly – increasing the number of family court judges in New York State – came to fruition earlier this year with the creation of twenty-five additional family court judgeships throughout the State. The State's family courts battle an overwhelming number of complex problems, including child welfare, juvenile justice, domestic violence, child and spousal support, and custody cases, but they lack sufficient judicial resources. It is hoped that the addition of more family court judges will decrease waiting times for litigants, and will facilitate a more efficient administration of justice to those in need, especially to children and those seeking protection from abuse. The long overdue new family court judgeships should directly benefit thousands of children and families, as well as victims of domestic violence appearing before the court seeking justice and safety from abuse. L 2014, ch 44, A.10139 – Weinstein.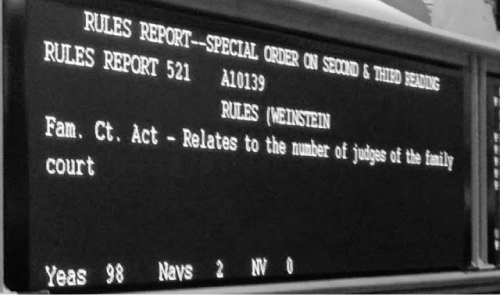 PROTECTING DOMESTIC VIOLENCE VICTIMS, FAMILIES AND CHILDREN
Below are a few of the measures advanced by the Judiciary Committee to protect victims, children and families.
Protecting victims from having to choose between safety and housing. This measure prevents local nuisance ordinances from jeopardizing the housing of victims of domestic violence for accessing police or emergency assistance. A.9056 – Lavine. (Passed Assembly only).
Enabling greater involvement of relatives in cases involving child abuse or neglect. This measure enables greater notice to and participation by non-respondent parents and relatives in child protective proceedings. A.7623 – Weinstein (Passed Assembly only).
Protecting due process rights of parents in custody cases. By providing for uniform access to court ordered forensic mental health evaluation reports and underlying data by parents in child custody cases, this measure protects due process rights of parents. A.8342A – Weinstein. (Reported out of Committee).
Reforming New York State's Spousal Maintenance Laws. To facilitate predictability and fair outcomes for divorcing spouses, this measure introduces numeric guidelines to determine the amount and duration for post-divorce maintenance. A.9606 – Weinstein (Reported out of Committee).
CONSUMER PROTECTIONS
The Judiciary Committee monitors the needs of civil justice litigants to ensure that our law keeps pace with trends and challenges. From the enactment of the Exempt Income Protection Act of 2008 (which protected social security, veterans disability and other exempt income from being seized by creditors) to the expansion of bankruptcy exemptions in 2010 (which increased the quantity of exempt property in bankruptcy due to inflation), the Committee has spearheaded legal reforms in consumer protection. In 2014, the Committee continued this focus.
Protecting against identity theft in name change publications. Responding to increasing concerns about identity theft, this law amends the publication requirement by limiting the amount of information that must be published to finalize a name change. L 2014, ch 253, A.3549 – Weinstein.
Increased protections in improper debt collection cases. While the Attorney General and District Attorneys can sue debt collectors for violating state law during collection efforts, ordinary citizens who face this behavior cannot. This measure expands the right to sue to individuals. A.6654 – Simotas. (Passed Assembly only).
Consumer Credit Fairness Act. Problems associated with debt collection that impact victims of domestic violence and other citizens continue to trouble the legislature. This longstanding proposal of the Assembly, submitted this year by the New York State Attorney General, reforms abusive litigation practices concerning consumer debt collection and provides important consumer protections. It prevents debt buyers from suing the wrong person, suing for moneys that have already been paid, suing on debts that are past the legal time limits for bringing a law suit and suing on debts without proper proof. A.9053 – Weinstein. (Passed Assembly only).
PROTECTING HOMEOWNERS AND KEEPING NEIGHBORHOODS SAFE
New York has been a national leader in confronting the foreclosure crisis affecting our citizens. We have enacted numerous reforms and continue to push for additional ones. When the foreclosure crisis hit our state, the Assembly worked with the Governor to establish judicial foreclosure conferences to oversee the process and facilitate settlements between borrowers and lenders. A recent investigation co-authored by Assemblywoman Weinstein found that the foreclosure crisis continues in New York State, with nearly 30,000 homes currently facing foreclosures. The Committee's commitment to protecting homeowners continued this year as it acted to help localities cope with abandoned properties. Below are some of the Committee's efforts in this area in 2014.
Extending comprehensive protections for homeowners in foreclosures. Critical protections for borrowers at risk of losing their homes in residential foreclosure actions, including mandatory settlement conferences and the requirement for banks to negotiate in good faith, were extended for another five years to continue to allow homeowners regain their footing and to give them a fair chance at negotiating mortgage loan modifications to save their homes. These settlement conferences – overseen by the Judiciary – have resulted in countless settlements that avoided foreclosure. L 2014, ch 29, A.9354 – Weinstein.
Combatting abandoned properties. To help protect our cities and neighborhoods from the blight and attendant safety risks of vacant and abandoned properties, the Assembly Judiciary Committee reported legislation proposed by the New York State Attorney General that would require lenders to maintain, before and during the foreclosure process, residential properties that are vacant and abandoned. In addition, this legislation would create a state registry of such properties to help with their early identification and maintenance. A.9341A – Weinstein. (Reported out of Committee).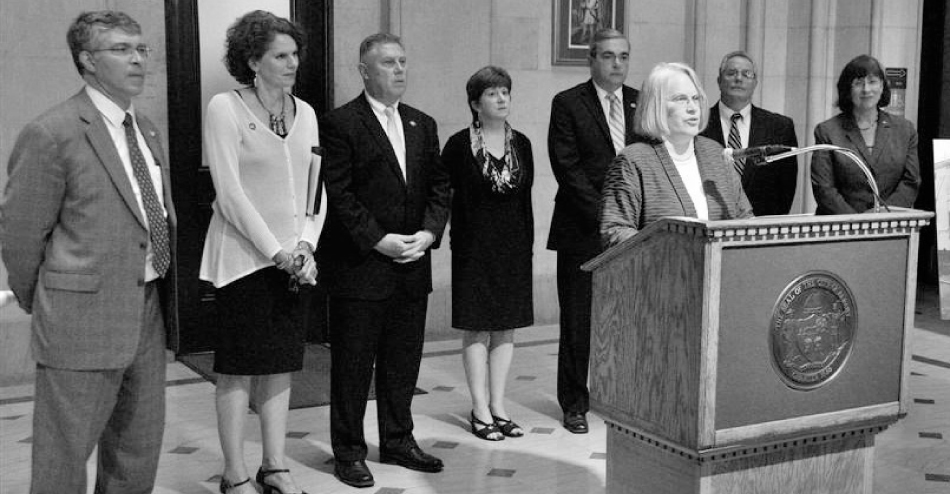 Assemblywoman Helene E. Weinstein at a press conference with the New York State Conference of Mayors in support of her bill,
A.9341
– Abandoned Property Neighborhood Relief Act of 2014. (L-R) Assemblymembers Phil Steck, Patricia Fahy and John T. McDonald III, Mayors Kathy Sheehan, Gary R. McCarthy, Lou Rosamilia and Ann Thane.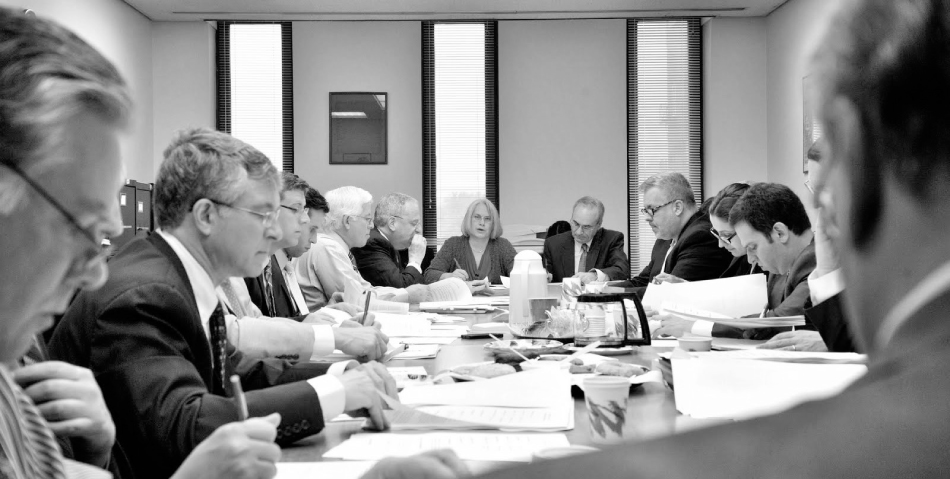 COURT OPERATIONS AND ADMINISTRATION OF JUSTICE
Following are some reforms the Judiciary Committee has helped to enact to make our justice system more responsive, fair and efficient.
Authorization of night courts. This law permits localities that host a City Court to keep their facilities open in the evening where court administrators determine this is warranted. L 2014, ch 452, A.9375A – Steck.
Streamlining filing of motion papers. By removing the requirement to re-file motion papers in cases that are electronically litigated, this measure avoids redundancy and extra costs to litigants. L 2014, ch 109, A.8972 – Hennessey.
Ratifying employment terms for non-judicial officers. This law ratifies an agreement between the Unified Court System and its' non-judicial employees, which was the subject of many years of complex negotiation. L 2014, ch 400, A.10098 – Weinstein.
TRUSTS AND ESTATES
The Assembly Judiciary Committee had a successful year advancing trusts and estates legislation and laws including a law that protects and supports families and children conceived after the death of a parent. In addition, the Committee revised and clarified trust laws to better meet the needs of New York's trust beneficiaries.
Establishing and clarifying rights of posthumous children (children conceived after the death of their genetic parent). Recognizing that advances in medical technology make it possible for a child to be conceived after the death of one or both of the child's genetic parents, this law creates a roadmap for rights of posthumous children by permitting them to inherit from their genetic parents under certain circumstances. L 2014, ch 439, A.7461A – Cook.
Clarifying the Surrogate's Court jurisdiction over the Uniform Transfer to Minor's Act. This law will reduce confusion in proceedings regarding assets belonging to minors in New York State by removing an erroneous reference to a section of law that has been superseded. L 2014 ch 112, A.9055 – Buchwald.
Streamlining the law on interest payable on a delayed legacy. This law introduces uniformity to the determination of interest on a delayed legacy and eliminates the need for unnecessary judicial proceedings by mandating the payment of interest on a delayed monetary legacy. In addition, it ties the statutory rate of interest to be paid on legacies to the Federal Funds Rate so that the beneficiary is compensated according to the time value of money for the delay in payment of their legacy. L 2014, ch 404, A.1185 – Weinstein.
Clarifying requirements for a fiduciary to recant a decanting. The Assembly passed legislation to create a roadmap for the trustee to follow in the event that it is necessary to recant a decanting during the thirty day period before the decanting takes effect. A.9761 – Braunstein. (Passed the Assembly only).
This year, the Assembly continued its support of civil legal services in New York State by continuing a $15 million supplemental appropriation through the Judiciary budget for IOLA to continue funding its legal service grantees and an additional $55 million appropriation through the Judiciary budget to help bridge the tremendous gap between the need and the availability of civil legal services for low-income New Yorkers. As part of the SFY 2014-15 budget, the Assembly also restored its traditional funding for civil legal services in the amount of $2.65 million and $609,000 for domestic violence programs.