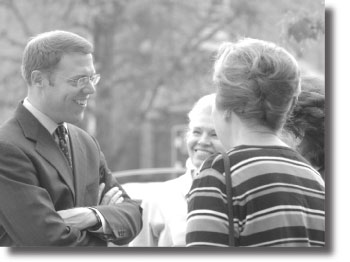 Assemblyman Barclay speaks with constituents.

Although public knowledge of and treatment measures for breast cancer have improved significantly, it still is the most common cancer in women in the United States. This year, the state Legislature established a new fund that provides grants to community-based organizations that provide counseling, education and outreach programs to persons diagnosed with breast cancer.
Another measure, Assembly Bill 850, authorizes funding for mapping the incidences of breast cancer from the Breast Cancer Research and Education Fund.
For more information on breast cancer programs, call the Adelphi NY Statewide Breast Cancer Hotline and Support Program toll-free at (800) 877-8077. Callers with limited income can also find out about low-cost and free mammograms.