Veterans to Benefit from New Laws

Legislation (A.11493) amends the real property tax law to allow the National Guard and Reservists to receive the Veterans Real Property Tax exemption even while serving. This exemption will at least give those property owners and their families a slight tax break. In this war, many reservists are being asked to stay for longer durations and often beyond the time they themselves expected. This bill is currently awaiting the approval of the Governor.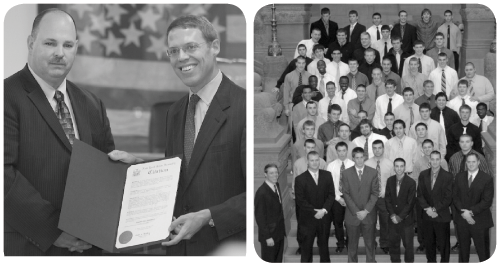 Skaneateles Fire Department

Last year, there were questions as to whether the legislative grant that I secured for the Skaneateles Fire Department would be available to the fire department for the purchase of their air compressor. I was pleased that earlier in the year, we were able to resolve the issue and the Skaneateles Fire Department will receive the $27,000 grant as promised. The department and its volunteers provide an invaluable service to the entire community and I am pleased that we have been able to help them with this acquisition.
Onondaga Community College

During initial budget negotiations, I was concerned that Onondaga Community College was not included in the list of schools to receive capital funding. Upon further budget talks a consensus was reached to include capital funding for Onondaga Community College in the amount of $34.2 million.
Historic Home Tax Credit (A.30000)

This region is rich with historic properties and this legislation gives people and businesses more incentive to invest in older homes and businesses which greatly add to the landscape and character of our towns and villages. The Rehabilitation Tax Credit Program expands the law to provide an additional $15 million in tax cuts beginning in 2009. This legislation awaits the Governor's signature.
Truck Traffic

I was pleased that after several years of working on this issue, we have begun to make headway in addressing the serious threat that truck traffic poses to our local towns and villages. Protecting the quality of life for all residents is important to me and I am happy that the Governor has decided to help the residents who live here and direct the Department of Transportation to draft regulations to manage truck traffic in the Finger Lakes area. The draft regulations are on the State Department of Transportation Website and I expect they will go to public comment soon. To review the regulations, please visit:
https://www.nysdot.gov/portal/page/portal/programs/truckpolicy

Around the District

Higher gas prices have caused many families to look for local vacations and day trips. The good news is that we have a lot of great attractions right here in Central New York to keep us busy- and we are helping out our local economy! Here are some websites that may be helpful in planning a local vacation:

I Love New York Website: http://www.iloveny.com/home
The Great NYS Fair http://www.nysfair.org/fair/
Onondaga County http://www.ongov.net/
Syracuse Chamber of Commerce http://www.syracusechamber.com/
Skaneateles Chamber of Commerce http://www.skaneateles.com/
Baldwinsville Chamber of Commerce http://www.baldwinsvillechamber.com/
Jordan Elbridge Chamber of Commerce http://www.elbridge.com/
Marcellus Chamber of Commerce http://www.gmcc.marcellusny.com/
Camillus Chamber of Commerce http://www.camilluschamber.com/
CNY Summer Guide: http://www.cnysummer.com