Assemblyman
Will
Barclay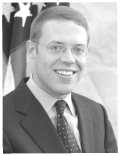 News and Views
from the 124th
Assembly District
2008-2009 Budget:
More Debt, Taxes and Fees
I am very troubled with this year's budget and New York's high rate of spending. Despite warnings from fiscal analysts and the State Comptroller, this year's budget increases the state's debt load by $3.2 billion, increases spending by 4.9 percent and increases taxes and fees by almost $2.2 billion. Additionally, the budget shifted a lot of the traditional state costs onto our local counties. This is not the direction the state should be taking at this time. That is why I voted against most of the budget bills – even when I supported many of its provisions. I could not vote for much of the budget because it failed to be fiscally responsible. Raising taxes and fees is the last thing we should be doing during times of economic hardship.
Dear Neighbor,
Enclosed is my Annual Newsletter that I send to residents in the 124th Assembly District. It includes information on this year's budget and key legislation and local issues. I hope you enjoy the latest newsletter. As always, if my office may be of assistance to you, please feel free to contact me.
Very truly yours,

Will Barclay
Click Here for a Printable Version of this Form
Legislative Priority:
Unresolved Legislative Issues

• Meaningful property tax relief for New York's residents and businesses;
• Restricting unfunded mandates placed on localities and school districts;
• Providing energy relief for families;
• Renewing Article X to increase the energy supply and lower costs for homeowners and businesses;
• Passing the Chronic Criminal Act so that we can place repeat offenders behind bars for a longer period of time;
• Expanding the DNA database to include all finger printable offenses; and
• Strengthening Ethics Reform Laws.

Working for people across
Oswego County
Assemblyman
Will
Barclay
Veterans to Benefit from New Laws
Legislation (A.11493) amends the real property tax law to allow the National Guard and Reservists to receive the Veterans Real Property Tax exemption even while serving. This exemption will at least give those property owners and their families a slight tax break. In this war, many reservists are being asked to serve for longer durations and often beyond the time they themselves expected. This bill is currently awaiting the approval of the Governor.

A. L. Lee Memorial
Last month, the NYS Department of Health granted A. L. Lee Memorial Hospital a one-year extension to meet criteria outlined by the Berger Commission. I was pleased with the Department of Health's decision. I am still hopeful that an agreement can be reached between A. L. Lee Memorial Hospital and Oswego Health. One year will give both hospitals the time they need to carefully review terms of an affiliation, to complete due diligence, and to, ultimately, serve the residents of this region and provide the health care the area needs.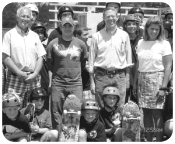 SUNY Oswego
During initial budget negotiations, SUNY Oswego was not included in the list of schools to receive capital funding. Making sure SUNY Oswego received capital funding was a priority of mine and I worked with the Senate Majority and my Assembly colleagues to make sure the final budget included funding. The hard work paid off and SUNY Oswego received $69.5 million in the budget for the new Math, Science and Engineering facility.
Historic Home Tax Credit (A.30000)
This region is rich with historic properties and this legislation gives people and businesses more incentive to invest in older homes and businesses which greatly add to the landscape and character of our towns and villages. The Rehabilitation Tax Credit Program expands the law to provide an additional $15 million in tax cuts beginning in 2009. This legislation awaits the Governor's signature.
Around the District
Higher gas prices have caused many families to look for local vacations and day trips. The good news is that we have a lot of great attractions right here in Central New York to keep us busy- and we are helping out our local economy! Here are some websites that may be helpful in planning a local vacation: