Andrew's Visit to Albany for Disability Day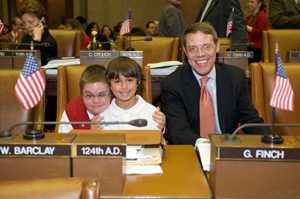 Left to Right: Andrew Bowman, Peter Bowman, Assemblyman Will Barclay
At the annual Disabilities Awareness Day last week, I had the honor of presenting Andrew Bowman, an eighth grade student at West Genesee Middle School, with the New York State Assembly "Excelsior Award for Excellence" here in Albany. Andrew received this award on Disabilities Awareness Day for his many achievements and contributions to his community, despite his own personal challenges.
Andrew, who has Down Syndrome, is a high honor student and plays percussion for the school band. Andrew also participates in his community's annual local Buddy Walk, to advocate for others with Down Syndrome. In addition to his community and scholastic activities, Andrew has shown himself to be an impressive athlete. At the 2008 Summer Special Olympics, held in Binghamton, he participated in swimming, basketball and softball, winning numerous medals including a silver and bronze medal for free-style swimming.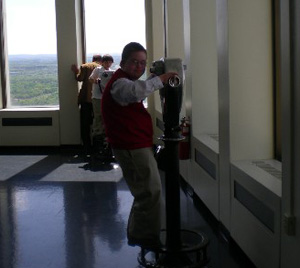 Andrew Bowman on the observation deck of the Corning Tower
Joining Andrew in Albany was his mother and father, Susan and Chris Bowman, and younger brother Peter. The Bowman family arrived in Albany early Monday morning. I met Andrew in the Well of the Legislative Office Building and presented Andrew with his award at the opening Disabilities Awareness Day ceremony.
Following the award ceremony, Andrew and his family took a tour of downtown Albany, seeing the Capitol building, the Empire State Plaza, and the famous Corning Tower. While in the tower, Andrew had the opportunity to visit the observation deck on the 42nd floor and enjoy panoramic views of our state capital.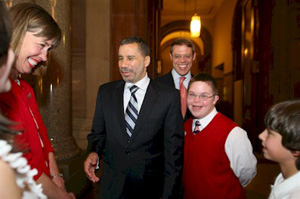 Left to Right: Governor David Paterson, Andrew Bowman, Assemblyman Will Barclay
Later that afternoon, Andrew had the chance to meet with Governor David Paterson, his goal of the day. The Governor, who also has a disability, congratulated Andrew on his award and past achievements. He also gave Andrew some words of advice and encouragement about living life with a disability and told him a story about his childhood.
Following his meeting with the Governor, I brought Andrew to the Assembly Chamber where he was introduced to the members of the Assembly. In his introduction, Andrew's many achievements in academics and athletics were mentioned along with his contributions to his community. The Chamber gave Andrew a standing ovation and many of my colleagues from both sides of the aisle came over to meet him.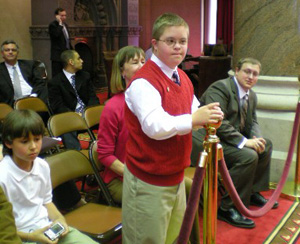 Andrew Bowman being introduced in the Assembly Chamber
Andrew ended the day with one last introduction in the State Senate given on behalf of Senator John DeFrancisco. During the introduction, Andrew was again recognized for his accomplishments and was brought down to the Senate floor, a rare opportunity for visitors, and received another standing ovation.
It was an honor to present Andrew with this award this year, and I congratulate him for his many personal accomplishments and contributions to raising awareness for disabilities in his community. He is an inspiration to us all, and it is my hope that others like him will follow his example of success in the future.
If you have any questions, comments or concerns regarding this or any other state matter, I can be reached by mail at 200 North Second Street, Fulton, 13069, by e-mail at barclaw@assembly.state.ny.us, or by phone at (315) 598-5185.