Palmesano Welcomes Home Afghan War Vets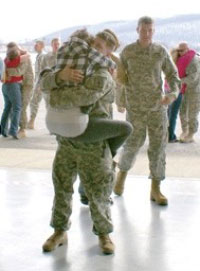 Assemblyman Phil Palmesano (R,C,I - Corning) recently attended an event at which 150 soldiers of the New York Army National Guard's 827th Engineer Company, based in Horseheads, returned home. The guardsmen made their homecoming after serving one year in Afghanistan.
The event was hosted by South Central New York Region of the American Red Cross in partnership with U.S. Veterans' Affairs. Sikorsky Corporation donated one of its hangars for a welcome home reception, which was attended by nearly a thousand relatives of the veterans.
"We owe our freedom and the many rights and privileges that we enjoy as Americans to the brave men and women of the United States Armed Forces," said Palmesano. "I'd like to give my best wishes to the soldiers and their families, in addition to my heartfelt gratitude for their service."