100th Anniversary of the Women's Suffrage Movement
Skip past photo slidehow


The New York State Legislative Women's Caucus - which consists of Members of the state senate and assembly - is commemorating and honoring the progressive and brave women of the Women's Rights and Suffrage movements. This year marks the 100th anniversary of the passage of the 19th Amendment, guaranteeing and protecting women's constitutional right to vote. This historic centennial offers an unparalleled opportunity to commemorate a milestone of democracy and to explore its relevance to the issues of equal rights today.
The first Women's Rights Convention was held in New York State. An estimated 300 men and women congregated on July 19 and 20 in 1948 at the Wesleyan Chapel in Seneca Falls. A total of 68 women and 32 signed the Declaration of Sentiments , authored by Elizabeth Cady Stanton and the M'Clintock Family.
For the next 50 years suffragists, led in New York by Stanton and Susan B. Anthony, circulated petitions and lobbied Congress to pass a constitutional amendment to enfranchise women. Members of the Suffragist movement were looked upon outcasts of society, beaten and often arrested. Cady was arrested for attempting to vote for Ulysses S. Grant in the 1950 presidential election.
The original suffragists never had the opportunity to vote before they passed away. But they laid the foundation for the 19th Amendment. Cady and Anthony's New York-based National Woman Suffrage Association (NWSA) eventually developed into the League of Women voters.
The State of New York ratified a woman's right to vote in 1919, which allowed them to vote in the 1920 elections. New York State became the first state east of the Mississippi River to allow women to vote.
Women's Suffrage Timeline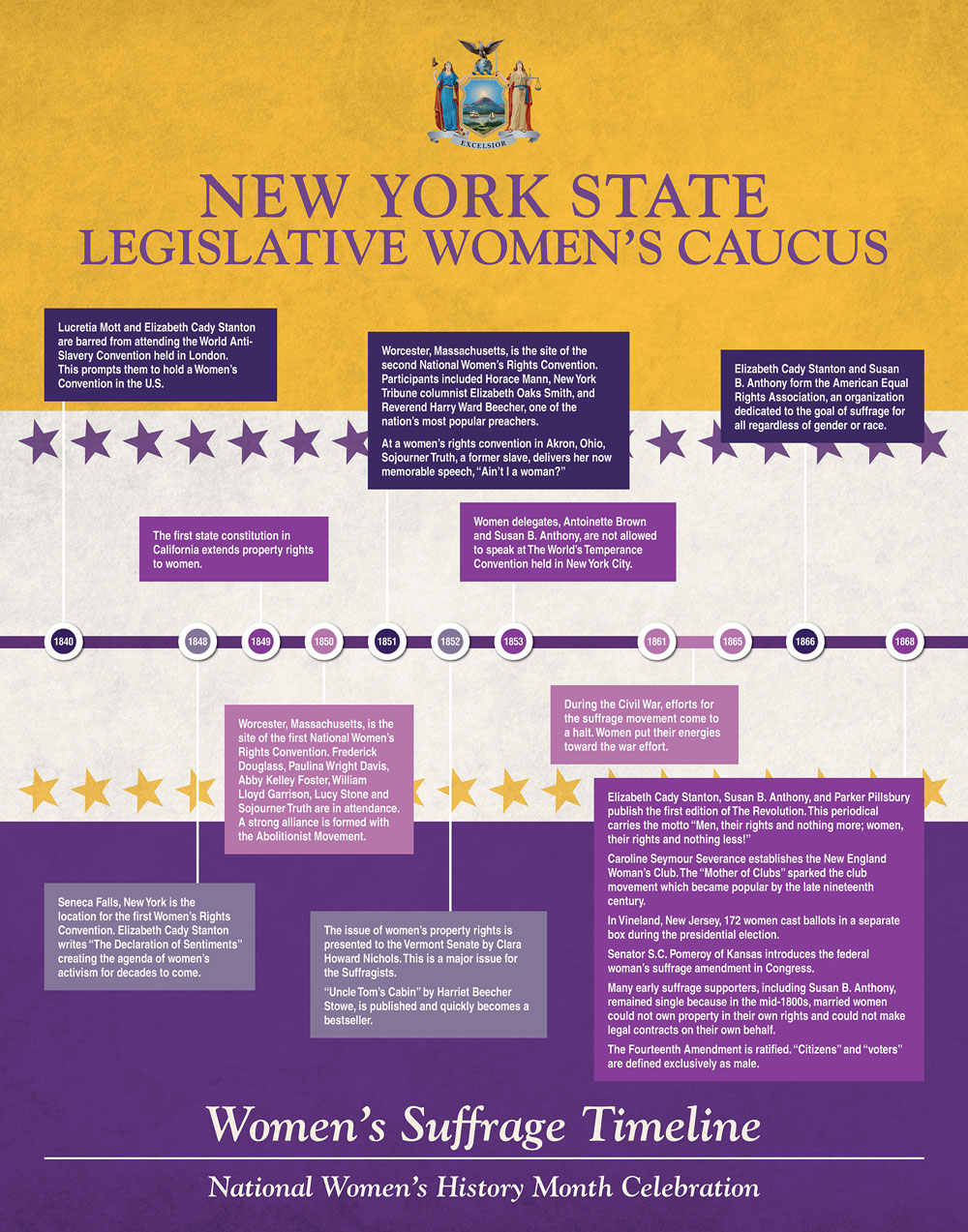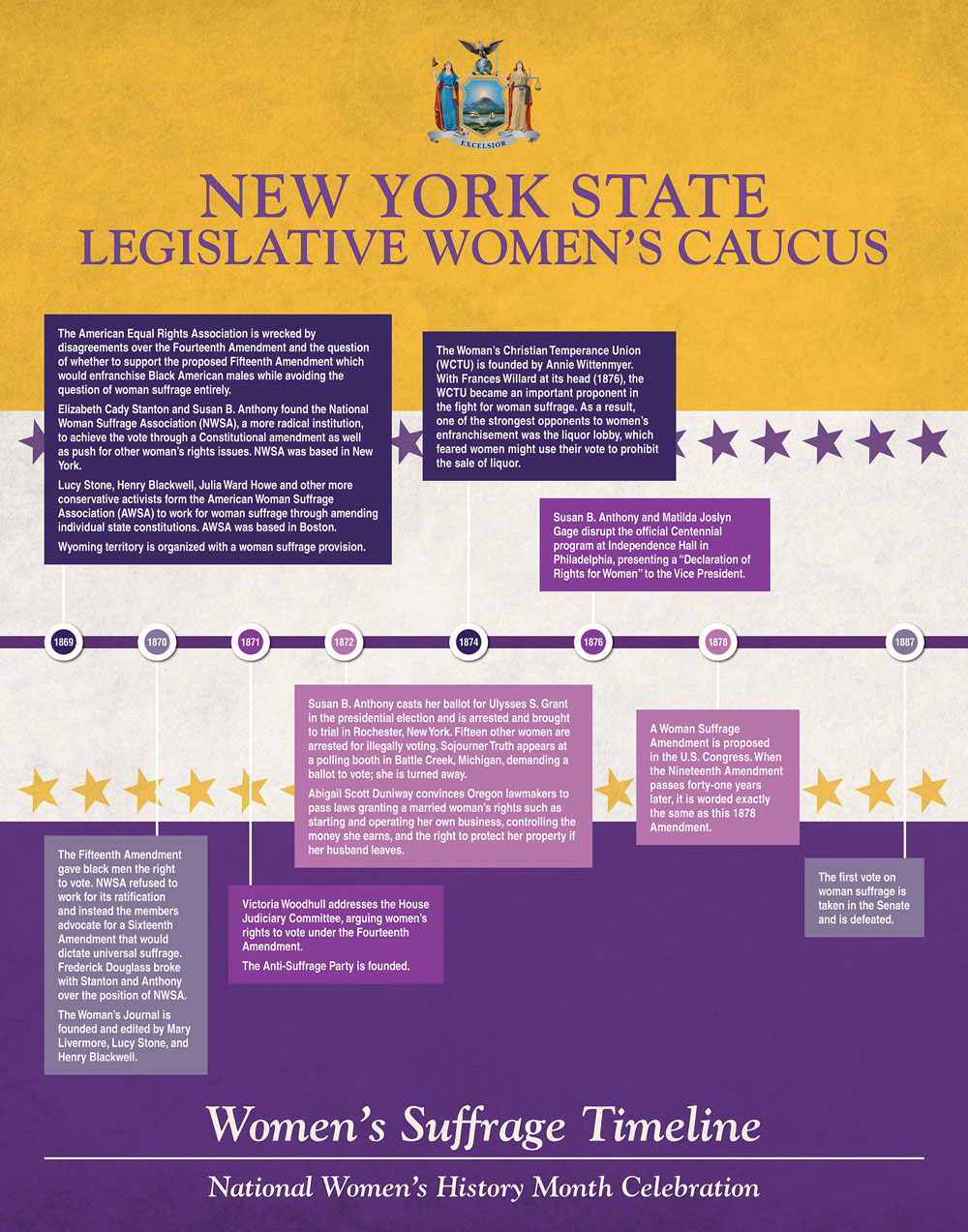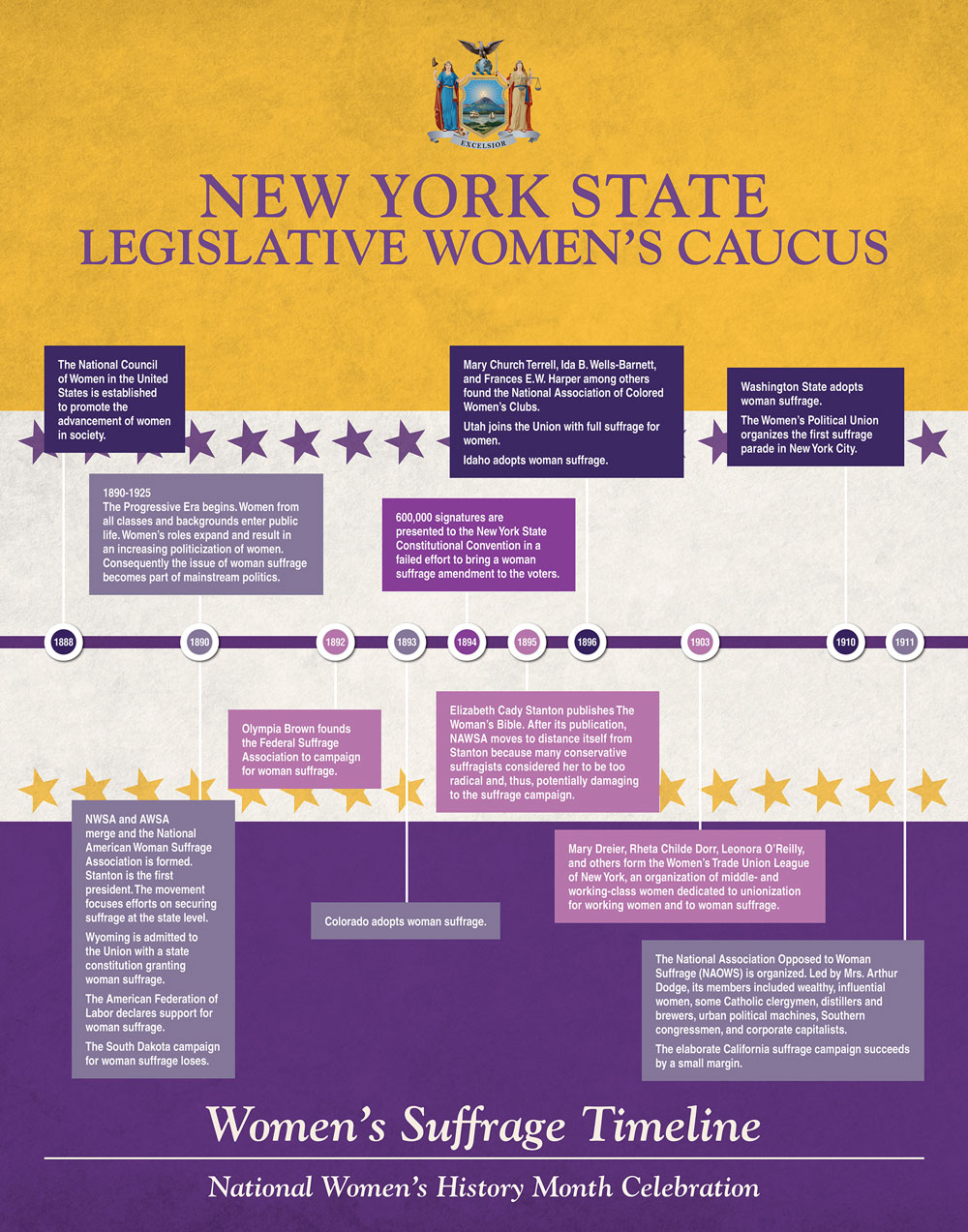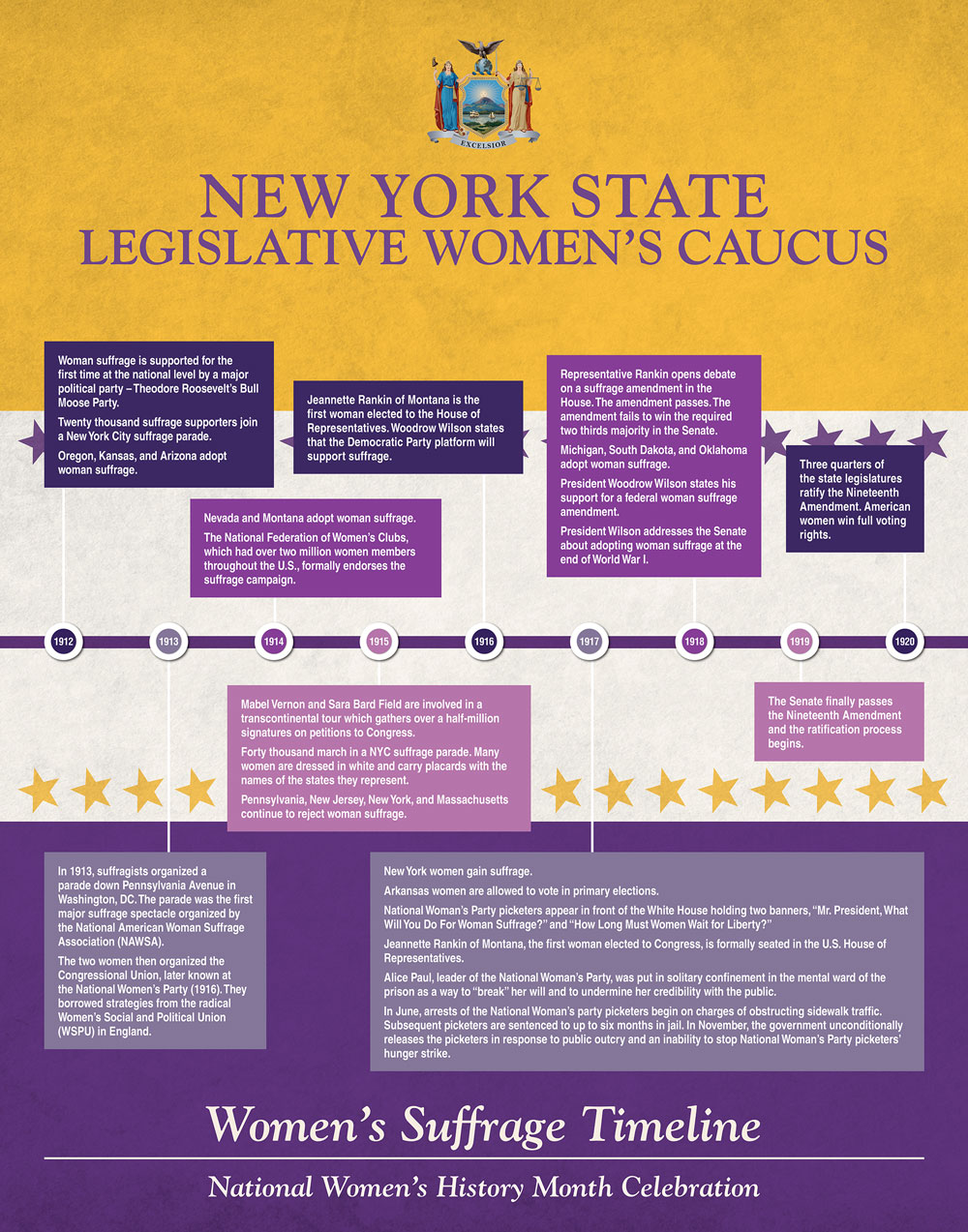 Historical Figures who Contributed to Women's Suffrage Movement
Skip past photo slidehow
New York State Legislative Women's Caucus
Mission Statement:
The Legislative Women's Caucus is a bipartisan and bicameral caucus of women elected to the New York State Legislature. Today, 67 women serve in both the Assembly and the Senate. These women represent urban, suburban and rural districts across New York State.
Through the Caucus, women state legislators work to:
Improve the participation of women in all areas of government;
Support issues that affect and benefit women and families in New York State; and
Provide a network of support for women in the State Legislature
Since its beginning in 1983, the Caucus has worked closely with women's organizations and concerned individuals across the state, as well as with the Governor, state agencies and other legislators to advocate for programs and services that benefit women and families.
2019-2020 Women's Legislative Caucus Officers:
Chair: Assemblywoman Kimberly Jean-Pierre
First Vice-Chair: Assemblywoman Carrie Woerner
Second Vice Chair: Assemblywoman Mary Beth Walsh
Secretary: Assemblywoman Karines Reyes
Treasurer: Senator Toby Ann Stavisky