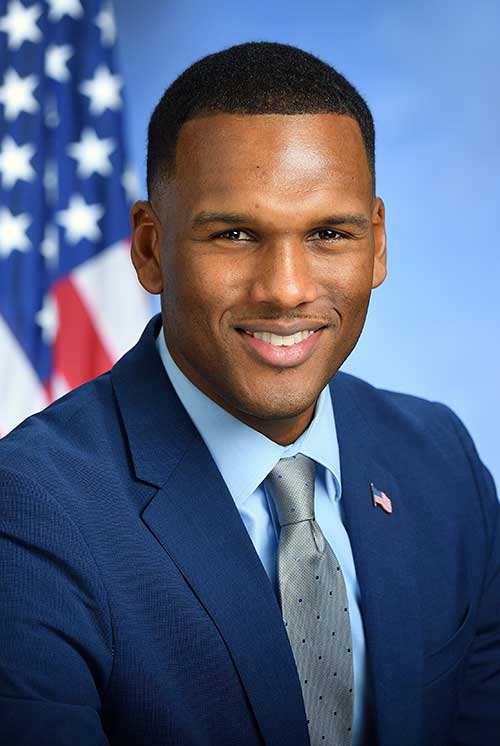 Charles D. Fall is the New York State Assembly Assistant Majority Leader. He proudly represents New York's 61st Assembly District covering the North Shore of Staten Island, Lower Manhattan and parts of Brooklyn.
Fall is the first Muslim and African American Assemblymember elected from Staten Island. He comes from a working-class family of six. His parents immigrated to Staten Island from Guinea, West Africa, and displayed a commitment to improving the lives of those around them. Fall's legislative priorities revolve around comprehensive strategies to ensure stable and healthier communities. This includes expanding resources for teachers, parents and students to resolve academic disparities, creating affordable housing options, ensuring individuals and families have sufficient health coverage and access to vital services, improving transportation infrastructure and other long-standing community concerns on the North Shore.
Fall has made it a priority to develop and strengthen relationships between community leaders and elected officials and champion solutions for community issues. In 2014, he served as the Staten Island Borough Director and Citywide Islamic Liaison for the Mayor of New York City, working to ensure Universal Prekindergarten and paid sick leave became realities. Fall then became the Chief of Staff to the Staten Island Parks and Recreation Commissioner with the desire to enhance local greenery to encourage community recreation and create safer neighborhoods. Fall earned his BA from Southwestern College in Kansas and received a Master of Public Administration with honors at Pace University.
In his spare time, Charles has always had a passion for running and basketball. He starts each morning with a run, a habit that began in high school. He played college basketball and now extends that love to young kids in his community, hosting basketball clinics with different organizations on the North Shore of Staten Island. Empowering young people to set and reach their physical and mental aspirations is central to who he is.
Today, Charles resides in his childhood neighborhood, Mariners Harbor, with his two daughters, Maimouna and Naila."