Gallahan Announces Two Public Safety Events Happening in Seneca County
August 30, 2023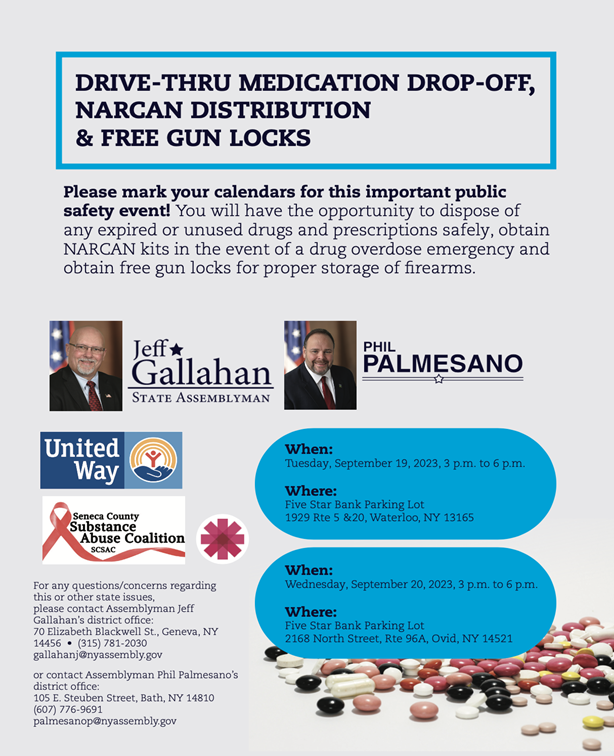 Assemblyman Jeff Gallahan (R,C-Manchester), in collaboration with Assemblyman Phil Palmesano (R,C-Corning), the Seneca County Substance Abuse Coalition and the United Way of Seneca County's Suicide Prevention Coalition, is helping organize two "Save Seneca County…One Step at a Time" drive-thru events at Five Star Bank locations in Waterloo and Ovid, New York this September. Both events will be held from 3 p.m. to 6 p.m. and will be set up in the bank parking lots so residents can drive-thru and drop-off any unused or expired prescriptions, obtain free and anonymous Narcan training and distribution, and receive free gun locks if needed. The Seneca Falls Police Department will be supporting the event on Tuesday, Sept. 19th at the 1929 Rte. 5 & 20 Waterloo branch while the Seneca County Sheriff's Office will be collecting medications at the 2168 96A Ovid location on Wednesday, Sept. 20th.
The purpose of these events: to not only reduce the use and prevent the abuse of substances in our community but also promote a safe and healthy community environment for all. Disposing medicines safely prevents others from using them accidentally or intentionally, and also prevents harmful residues from getting into the environment. Being trained and having ready-access to administer Narcan can save lives. Finally, obtaining gun locks can make homes safer for everyone, especially children and teens who might otherwise have unintended access without proper firearm storage.
"Providing safe means to dispose of medications and providing gun locks for home protection as well as NARCAN in the event of an overdose emergency are just a few ways to help make our communities a little safer," said Gallahan. "Public safety is something New York families should not have to worry about, yet we are seeing crime and drug addiction pose serious threats to public health and well-being. These events in Seneca County will help bring residents peace of mind, especially parents looking to keep medications out of reach from children and teens in the home. I encourage residents to stop by!"
"I am proud to be co-hosting these important events with Assemblyman Gallahan," said Palmesano. "Proper disposal of unused or old prescriptions and over the counter medications can prevent a tragic occurrence and save lives. I encourage everyone to please take advantage of the two upcoming events to dispose of any medications no longer needed in your household."